Are you a smoker, but you have the desire to quit?
Is being able to gain weight the reason that keeps you from becoming smoke-free?
Most smokers face this problem because quitting smoking can generate weight gain.
Why?
WHY QUITTING SMOKING IS A PROBLEM FOR GAINING WEIGHT?
Because smoking acts as an appetite suppressant, it speeds up the metabolism which helps the calories burn much faster. When you quit, the metabolism rate slows down.
After quitting smoking you regain sense of taste and smell, that is why all food seems to taste better.
The cravings will be also a problem after quitting smoking, so you can have the intention to eat to get distracted from them.
During smoking, the brain makes various associations, and "hand-to-mouth" is one of them. When you quit smoking, the action remains and can make you want to have snacks.
6 WAYS TO LOSE WEIGHT FAST AFTER QUITTING SMOKING
Since most people focus on the problem itself and not the solutions, I thought I would suggest you a few tips to lose weight quickly after quitting smoking.
The steps are easy to follow and will help you maintain a stable weight and being in great shape.

MINDSHIFT
When you quit smoking, your mind needs to resonate with the decision made, and with the steps you need to take. You can keep and train a great MINDSET by using daily positive affirmations to reaffirm your determination to achieve your goal weight, to transform your attitudes, perceptions and expectations.
" I am stronger than any excuse." 
" I am open to positive changes in my life."  
" I make healthy choises for my body."
" I am ready to be healthy and attractive."
" I respect and have love for myself and my body."
" I am in control of my life."
" I am achieving my goals and nothing can stop me."
" I am creating a body that I desire."
" I love to eat healthy food."
" I am losing weight each day."
" I enjoy exercise, It makes me love my body."
These are just a few of the positive affirmations that you can use daily to strengthen your motivation to achieve your weight goal.
"Weight loss does not begin in the gym with a dumbbell; it starts in your head with a decission." Toni Sorenson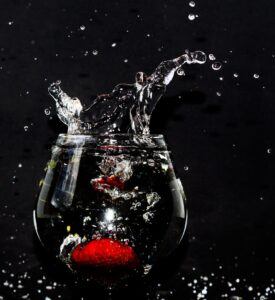 DRINK WATER
Increasing the amount of water is the best way to lose weight fast. Drinking a minimum 2 liters per day will flush your toxins from your body, it will keep you hydrated, and it will suppress your appetite. So, drink a full glass of water before every meal.
"If there is magic on this planet, it is contained in water." Loren Eiseley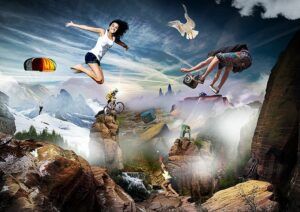 EXERCISE
Exercise to boost your metabolism and to nurture your spirit, to release the tensions, stress and frustrations due to the smoking cravings, and especially to burn the calories.
As I said, smoking burns the calories, but when you quit smoking your heart rate slows down as well as your metabolism, which can lead to weight gain.
Try to implement regular physical movement at least three times per week. You can start using stairs, taking long walks, gardening, or doing housework.
If you are a dance lover (as I am), I recommend you to put on your favorite music and to dance in your own way like nobody can see you.
Believe me, if you will do it a few times per week, half an hour, using body rolls and ample movements of the hands and feet, you will burn more calories than you can imagine, especially in a very pleasant way.
I recommend you as well swimming, cycling or a static bike, Yoga, Pilates, Tai chi, which improves the body balance. They all uplift your mood, help eliminate stress and strengthen the body.
Be creative, and I am sure you can find various activities that will help you to minimize weight gain. It is important to be committed to implementing regular exercise in your lifestyle.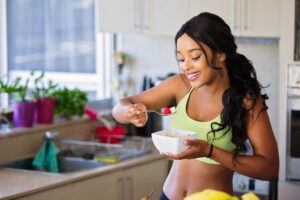 MINDFUL EATING
Emotional eating can be automatic, so, be in control of your emotions and eat just when you are relaxed.
It is very important to remove all the distractions, to be able to stay focused on eating the right amount of food. Less food on your plate means less on your waist.
Be Mindful, extract the full richness out of it, make use of all your senses, and savor every bite by chewing slowly and in small pieces.
The fact that you will be present and receptive to all senses: sight, hearing, touch, taste, and smell concerning food, will help you to slow down the style of eating, and you will even start to explore the experience in a different way than usual.
"Mindful eating it replaces Self-Criticism with Self-Nurturing. It gives rise to all kinds of sensory, experiences and sensations."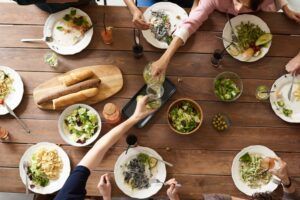 EAT HEALTHY
In addition to all the previous steps, of course, nutrition plays an important role in keeping weight under control after quitting smoking.
Together with my good friend and collaborator, Sheldon Sims, a Health Coach, we recommend a diet plan which will help you to balance your calories.
As I said from the beginning, you must have an open mind to resonate with your attitude towards food.
We offer you a variety of food products, divided into the three main meals of the day, which you can combine as you wish.
BREAKFAST
– Greek yogurt (diet-friendly), kéfir;
– cereals;
– eggs (low in calories, which boost the metabolism). The egg yolk contains most of the nutrients, and egg white is an almost pure protein that contains all amino acids in perfect balance.
– vegan cheese (low in fat and calories): Parmesan, mozzarella, cheddar, and Swiss cheese;
– vegan milk low in sugar: almond, soy, rice, cashew, coconut, and Sheldon's favorite, hemp milk, which can be an alternative to cow's milk. It has a nutty flavor, creamy consistency, and it does not cause mind-altering effects.
– if you like a bit of sweetness, Sheldon recommends using brown rice syrup.
He also recommends for you, a protein shake:
– 3 Tbsp hemp protein powder or hemp seeds
– 1 Tbsp wheatgrass powder
– 1/2 Tsp cinnamon
– 1 Tsp Maca powder (Peruvian ginseng); it is not recommended for thyroid problems.
– 2 bananas or 1 cup of blueberries
– 3 cups alkaline water
Blend for 1 minute.
I recommend you also my personal smoothie, which balance the digestion and activate the metabolism:
– 2 bananas (I add depending on the season strawberries, raspberries, blueberries or watermelon)
– fresh spinach leaves
– 1 Tbsp chia seeds
– 1/2 Tsp cinnamon
– 1/4 glass of coconut milk (it can be replaced with any vegan milk)
– 1 raw carrot
– 1 Tbsp spirulina powder
– fresh orange
Blend for 1 minute.
LUNCH
– being vegan for 35 years, organic beans are one of Sheldon's staples.
– the salad must have a minimum four colors of raw vegetables, with vegan dressing (oil/vinegar);
– you can use guacamole or organic salsa to add to a salad;
– use vegetable proteins as edamame (soybeans) and Wakame seaweed salad.
For those who are meet consumers, it is recommended to use lean meat (low in fat), which will help convert protein into muscle and not fat, and as well as fish.
As for meat, I recommend rabbit (which I love to prepare with olives), chicken breast, grass-fed beef (it is lower in fat and calories compared with grain feed beef), turkey; and as for fish, I suggest salmon and canned tuna.
DINNER
We recommend a light dinner, preferably before 7 pm. You can combine:
– tofu (bean curd), tempeh (Indonesian soy product), seitán (wheat gluten);
– vegetables (sautéed, steamed, stir-fried or raw);
– brown rice, quinoa, chia, millet, oats;
– yam (sweet potato).
After the meals, we recommend you to drink one cup of one of the listed teas, without sweetening it (or sweetened with raw honey): mint tea, green tea, black tea (not in the night), and dandelion tea.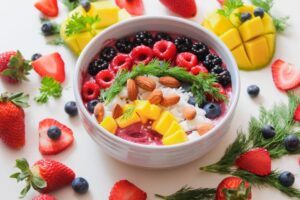 HEALTHY SNACKS
Due to the short but frequent cravings for smoking, your appetite to eat will increase considerably.
So we recommend you to have a healthy snacks: walnuts, raw carrots, celery sticks, pumpkin seeds, sunflower seeds, fresh fruits (bananas, raspberries, blueberries, strawberries, watermelon, tangerines, oranges, grapefruits, apples, lemons etc.), low-fat yogurt, multigrain organic chips.
As I always say, love yourself and do not be harsh. Take full responsability for yourself and your actions, but be gentle.
REMEMBER HOW:
your clothes do not fit
 your skin has lost its radiance
you do not have enough energy
you are regretting how much you ate
you are wishing to work out
you wanted to change
BEFORE MAKING ANOTHER UNHEALTHY CHOICE!
It is important to understand that due to fluid balance or hormonal changes, your weight can fluctuate daily, and this cannot reflect fat loss or gain.
You can weigh yourself frequently, like this you can be sure that you keep your weight under control.
These tips can be used as well whenever you want to lose weight, or you can implement them in your daily life to maintain your body weight in balance.
BONUS
My dears, I provide below a video, which together with my collaborator Hunyadi Sebastian-Antonio, we designed to be listened to at night, a video which contains powerful positive statements that your sub-conscience mind will absorb while you sleep and will enable your ideal weight.
Be safe, take wise and healthy decisions, and spread the information with love for those who may be in need.
Till next time…
Shape Your Body!
~ Diana D. ~
Founder of dareandbe.com/